Students from the University of Glasgow's School of Computing Science are defending their title in the finals of the Alexa Prize TaskBot Challenge.
The teams compete to build the best AI-powered multimodal conversational assistant to help people perform real-world tasks like cooking, making crafts, or helping with DIY.
The research group – the Generalized Representation and Information Learning Lab (GRILL), advised by faculty member Dr. Jeff Dalton – won the $500,000 cash grand prize in last year's competition.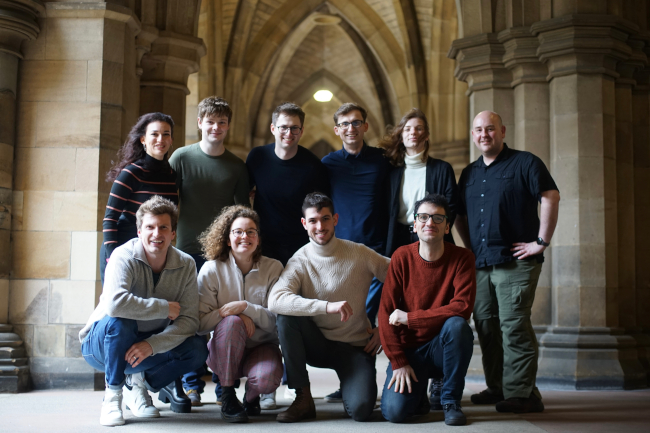 The GRILL team are the only UK entrants selected by Amazon to compete against students from 10 universities in the USA and Portugal. A semi-final in June whittled the competitors down to eight teams.
Now, the GRILL Team are finalists in this year's competition. The GRILLBot conversational assistant, based on the research group's Open Assistant Toolkit (OAT), will be judged against four other competitors from the USA and Portugal at the finals event later this month.
The Alexa Prize TaskBot Challenge is a competition for university teams to develop conversational AI agents capable of helping people perform real-world tasks using an Alexa device with both voice and a screen. It provides the opportunity to develop and test new machine learning models with real-world users at scale.
Last year's competition asked the teams to help users with cooking and DIY tasks. This year, the challenge expands to include more hobbies and at-home activities. A key aspect of this year's challenge is going beyond just voice to effectively incorporate visual aids.
Dr Dalton said: "I'm proud of the team rising to meet new AI research challenges in the second year of Taskbot. This includes deploying LLMs for social chat, knowledge augmentation, and improving task-specific QA. Reaching the Finals demonstrates the world-leading talent and determination of UoG students at all levels and their ability to engage with research. The GRILL team pushed the frontier of multimodal generative language models to new levels in the Challenge."
PhD student Sophie Fischer is the GRILL team's leader. She said: "We find it exciting to use the latest advances in Large Language Models to create experiences for users that are fun and engaging by bringing in new types of rich interactions and teach them new knowledge and skills. The Challenge is a fun rollercoaster because the time from research to real-world deployment is shorter than in most research projects."

The GRILL team are:
Sophie Fischer (Team Lead), PhD in Computing Science

Carlos Gemmell, PhD in Computing Science

Niklas Tecklenburg, Bsc Informatics

Philip Zubel, BSc (Hons) Computing Science

Ekaterina Terzieva, MSc Computer Science

Daniel Armstrong, MSs Information Technology

Eva Kupcova, BSc (Hons) Computing Science

Federico Rossetto, PhD in Computer Science

Iain Mackie, PhD in Computing Science