Stroke survivors will be aided in their recovery by a state-of-the-art rehabilitation hub in Lanarkshire.
In the aftermath of a stroke, the importance of intensive rehabilitation is paramount. In the UK, guidance from the Royal College of Physicians recommends that stroke survivors receive at least 45 minutes of daily therapy with a rehabilitation professional for a minimum of five days per week. In recognition of more recent research these guidelines have been updated in 2023 to three hours per day of rehabilitation.
However, the overwhelming demand for rehabilitation exceeds its availability with data indicating that few people are currently receiving the minimum recommended level and the amount of daily therapy time averages just 14 minutes a day.
This prompted researchers at the University of Strathclyde to investigate how the situation can be improved, focusing on the feasibility of employing 'technology-enriched rehabilitation hubs' (TERHS) to enable individuals to access the therapy they need at the frequency they require.
Led by Dr Andy Kerr and Professor Philip Rowe in the Department of Biomechanical Engineering, the team have set up a rehabilitation hub at the stroke unit at University Hospital Wishaw with the support of strategic partner NHS Lanarkshire.
The hub – equipped with a range of integrated technology, including virtual reality treadmills, power-assisted equipment, balance trainers and upper limb training systems – is designed to holistically address the motor, cognitive and communication impairments caused by stroke. The technology also incorporates 'gamification', such as virtual reality, puzzles and problem-solving activities, which helps to enrich the environment and improves the engagement with and response to therapy.
Research will be completed with inpatients in the early phase of their stroke recovery – under the supervision of NHS therapy staff – with the aim of enabling them to achieve, or even exceed, the recommended levels of rehabilitation.
The impact of stroke on survivors can be profound and wide-ranging – with movement and speech commonly affected – but the months immediately after a stroke are key to recovery.
During this time the brain floods with biomolecules that enhance neuroplasticity – effectively enabling the brain to rewire and reorganise itself to regain lost functionality.
The initiative builds on previous research by the team into the use of the hubs, which saw them set up a gym-like space in the University's Sir Jules Thorn Centre for Co-Creation of Rehabilitation Technology and offer an eight-week programme to stroke survivors under the supervision of Dr Gillian Sweeney, an occupational therapist seconded from NHS Lanarkshire and Mel Slachetka, a research physiotherapist.
Global guidelines recommend that survivors of stroke receive rehabilitation therapy that is individually tailored, intensive and delivered within enriched environments.

However, the overwhelming need for this rehabilitation far outstrips the capacity of most health care systems which don't have enough specialist staff to deliver this service, which results in suboptimal, and often inequitable, rehabilitation.

Technology offers a potential solution to bridge this gap and is gradually being put into practice, for example, through the use of treadmills, speech therapy apps and virtual reality – but the application of such technology continues to be patchy.
In one study of the University's rehabilitation programme 26 participants who had been living with motor impairment following a stroke at least 12 months previously were recruited with the help of charity Chest, Heart and Stroke Scotland, with the aim of assessing whether this supported, self-managed approach undertaken in a hub was feasible and acceptable and to collect data on its effects for future research.
During the study, participants attended an average of 18.7 sessions with an 82% attendance rate. Reasons for non-attendance related to personal life, illness, weather, care and transport.
Participants found the programme to be a positive experience with the equipment highly usable, albeit with some need for individual tailoring to accommodate body shape and impairment.
The inclusion of performance feedback and gamification was well received. Mean improvements in outcome measures were recorded across all domains with low to medium effect sizes.
Every person that has come to the centre to take part in the programme has seen an improvement – mostly in walking speed. Some have had unexpected improvements in speech too.
The Strathclyde team will continue to study the effects the hubs have on participants to explore how effective they are in enabling stroke survivors to achieve the minimum levels of rehabilitation therapy they need – as well as its effects on outcomes of the therapy. The team are also planning to set up a TERH at Maryhill Community Centre in Glasgow in the near future.
Dr Kerr said: "If our research shows that TERHs have a positive impact on stroke survivors the ultimate goal would be to see such rehabilitation hubs open in easily-accessible community settings across the country."
Dr Gillian Sweeney, an alumna of Strathclyde who gained a PhD in stroke rehabilitation from the Department of Biomedical Engineering, is seconded to the project. She said: "The recent research conducted in the University of Strathclyde has shown this type of model to be safe and feasible when used by people in the chronic phase of stroke recovery, and has led to improved outcomes. It is exciting to now be trialling 'technology enriched stroke rehabilitation' with NHS Lanarkshire inpatients, who are in the early stages of their recovery from stroke.
"Collaboration between the NHS and the University, in seconded posts such as my own, enables the sharing of knowledge to allow interventions to be introduced, tested, and evaluated in clinical services and the results to be shared at a national and international level. If successful, there is huge scope for this model to be used across services and at different parts of the stroke recovery pathway."
The team works closely with Professor Mark Barber, Geriatrician and Stroke Lead Clinician, NHS Lanarkshire and Honorary Professor in the Department of Biomedical Engineering. Professor Barber is Chair of the Stroke Managed Clinical Network Research Subgroup and has brought a large number of multicentre stroke trials into NHS Lanarkshire, where previously little research was carried out. He is currently local Primary Investigator for nine such trials.
East Dunbartonshire MP and stroke survivor Amy Callaghan suffered a brain haemorrhage in 2020 which left her entirely paralysed on one side of her body. She spent six weeks in hospital, undergoing two brain surgeries, and then two and a half months in a rehab unit where she had to learn to sit up and to walk again.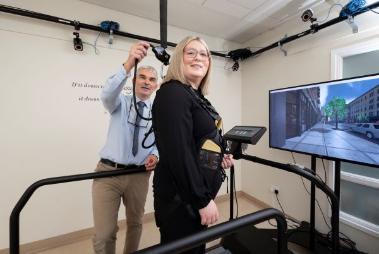 31-year-old Amy, who is also SNP spokesperson for Health at Westminster, underwent an eight-week treatment programme at the Sir Jules Thorn Centre last Spring.
She said: "The programme made real, tangible improvements to my life, where I brought them goals and they helped me achieve them in a way that no other rehab has been able to do so far.
"I went to Strathclyde with a goal of wanting to put my bra on myself, such a simple thing you take for granted until you can't. Achieving that helped me feel like myself again.
"It's been incredible and really helped to make a difference to my life. Strathclyde has given me my quality of life back.
"Part of being in politics is doing things on the go and walking and talking at the same time. I was struggling to walk when I started the course and was able to walk and talk at the same time when I left.
My hope had been starting to wane, and I was given my hope back.
"I'm really interested to see how it all works out on the acute side of long term rehab and recovery, it has huge potential."
Retired company director Stephen Stewart was on a golf course in Cyprus when he suffered a massive stroke, which affected the right-hand side of his body.
Following NHS rehabilitation from physiotherapy and occupational therapy and the use of the technology equipment at Strathclyde, he has made real progress and has regained movement.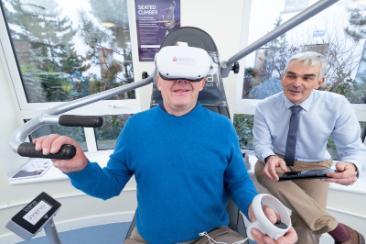 The 58-year-old from Hamilton, who is halfway through the eight-week rehab course at the Sir Jules Thorn Centre, said: "I'll never forget the day it happened, it was a warm day but I felt frozen and didn't know what was wrong with me. I thought I'd picked up a bug, but it was a stroke.
"I was in hospital for two weeks in Cyprus and then eventually I came to University Hospital Wishaw. When they offered me rehab at Strathclyde I didn't give it a second thought.
"With all the technology I think what they're doing is a real breakthrough. Even on the induction day I knew it was going to work. They had me on the treadmill and they identified a weakness in my walking, and instantly I improved.
"The technology is great because you don't need to be that fit to work it, it can do a lot for you. But it really gets your brain working. I've seen so many benefits. I was scared to go on the treadmill before but now I'm so confident that I do 3kms an hour – when I started I was way down at 1.4km.
"My walking is better and the efficiency of my walk means it's not as tiring for me. I even go the gym the days I'm not at Strathclyde. If you can get somebody mobile it can make such a difference. I think that the NHS physiotherapy, going to the gym and then topping it all off with this technology has been fantastic and it's been the right path for me.
"My goals for next year are to be able to ride a bike again and go on a self drive safari in Africa.
"I would love to see every stroke survivor have access to this technology in hospital and post hospital, it's the way forward."