A student team from Strathclyde have won first place in a space competition event to design and build a launch vehicle.
The event gives university students an opportunity to develop practical, hands-on mechanical and electronics skills, with industrial technical support provided to the teams remotely.
In 2021, the competition was exclusively for CanSats – small satellite simulations around the size of a soft drinks can. This year, the competition included designing and building a Launch Vehicle, capable of deploying the CanSat.
The StrathSEDS student team came first ams in the competition's 1000m combined category with their Strathosphere I rocket, one of the four categories.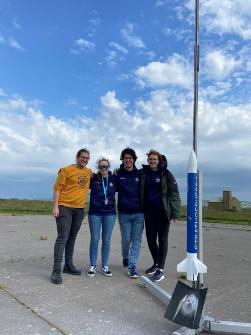 The engineering students created an aerial radio mesh network, using two ground stations, two CanSats, and their rocket.
President and team lead, Niamh O'Neill-Berest said: "Each CanSat was armed with altitude and GPS sensors as well as radios. The idea of the mission was to send a message from one ground station to the other, via the strongest radio connection – this sort of technology could be used to send a signal between ground stations that have a large object in the way, such as a building.
"Once our mission was settled on, we designed and built our rocket and CanSats over nine months, which involved weekly meetings, many lab sessions, and a range test."
Strathosphere I was designed to reach an apogee of 1,000m before the two CanSats and a parachute were deployed. After a successful launch, the team showed children from local communities the rocket and taught them how it worked.
The team scores were calculated by looking at three design reviews throughout the year, as well as flight performance, with Strathclyde winning the 1000m Combined Category, with University College London taking the runners up spot.
Niamh added: "We have already started discussing ideas for our entry into Mach-23 and can't wait to get started in September."