The University scooped the title for its sector-leading 'Entrepreneurship for All' approach to offering all of its students, staff and alumni the opportunity to develop an entrepreneurial mindset through 1-2-1 support and a diverse range of training, funding and workshops.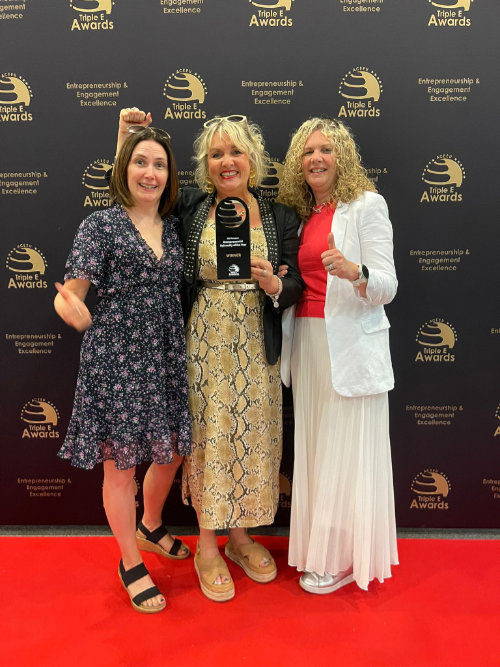 The Triple E Awards are organised by the Accreditation Council for Entrepreneurial and Engaged Universities (ACCEU) and were announced at the 2023 ACEEU Forum and 2023 Triple Helix Conference in Barcelona, Spain.
Strathclyde was up against Saarland University, Trinity College Dublin, Aston University and U.Porto in the category – but it was Strathclyde's strong focus on four key goals under its Strathclyde Inspire entrepreneurship strategy that won the day:
Developing entrepreneurial mindsets: positioning entrepreneurship as a mindset and set of behaviours that can be adopted by all;

Identifying & supporting entrepreneurial talent: making entrepreneurial support services easily accessible – ensuring emerging innovators are aware of the practical entrepreneurship support available to them at Strathclyde;

Empowering entrepreneurs: providing access to innovation-led opportunities with an unrivalled package of support at the heart of Glasgow City Innovation District (Scotland's first innovation district), accelerating them towards investment and growth;

Scaling innovation-driven enterprises: addressing the early-stage funding gap through significant expansion of investment capabilities.
Meryl Levington, Director of Innovation and Industry Engagement at Strathclyde, said: "This is a fantastic accolade and recognition for our institutional commitment to embedding entrepreneurship in everything we do at Strathclyde.
"The breadth and depth of activity undertaken by a huge range of staff at Strathclyde to support not just new business creation and growth, but an entrepreneurial mindset that permeates every aspect of our work as a University, is impressive and this was clearly recognised by the judges."
In September 2021, the University's bold and ambitious strategy attracted the attention and the support of alumnus and global business leader, Dr Charles Huang through a £50m donation from his philanthropic foundation – one of the UK HE sector's largest-ever gifts.
£30m of this gift will support the construction of a new building named after Dr Huang in the heart of Glasgow City Innovation District (GCID) which will house a new state-of-the-art Entrepreneurship Hub and become the focal point of Strathclyde Inspire on campus.
Another share is directly supporting the next generation of Strathclyde entrepreneurs through the creation of high-value Entrepreneurship Awards which have become a key component of Strathclyde Inspire. A third component funds two Chairs in Entrepreneurship which have attracted applications from leading business schools around the world.