A whisky distillery on a tiny Hebridean island is one of two companies to receive a Knowledge Transfer Partnership (KTP) to work with the University of Strathclyde.
KTPs are three-way partnerships between an organisation, the University, and a recently qualified graduate and are designed to drive innovation for UK businesses and organisations.
Artisanal distillers of whisky and gin, R&B Distillers, opened Isle of Raasay distillery on the Hebridean Isle, which is separated from Skye by a 25 minute ferry journey, in 2017.
The company is focused on implementing sustainable practices to affect positive change in the Scotch whisky industry, with an overarching target of Net Zero carbon emissions by 2040.
In partnership with the University's Department of Chemical and Process Engineering, the project is recruiting an engineer to help turn whisky by products into hydrogen, which can then power the distillation process.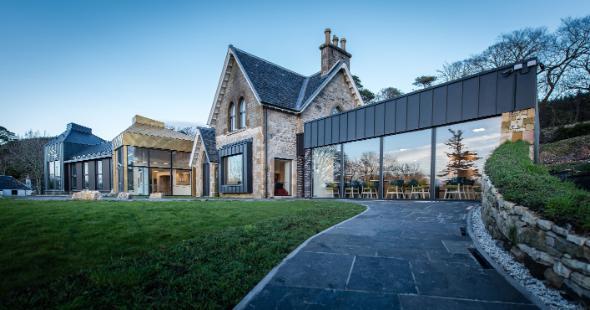 Distillery co-founder Alasdair Day, said: "R&B Distillers are fully committed to reducing our carbon footprint in our operations by a further 40% by 2030, in comparison with our baseline year of 2018.
"We believe that this KTP project will result in the knowledge required to accelerate our progress to achieve this target."
Renewable Parts Limited, one of the UK's leading supply chain partners for the wind energy industry, has also secured KTP funding to develop sustainable solutions for decommissioned wind turbines.
The partnership with the University will allow knowledge and emerging advances in remanufacturing, metrology, and lifecycle analysis to be embedded within the company.
Decommissioning wind turbines in an environmentally sound way, at minimum waste, is one of the most important questions facing the renewable energy industry.
The two year project will investigate end-of-use options for wind turbines across the UK and a Wind Turbine Decommission Project Lead is being recruited to lead the project in Lochgilphead, Argyll.
Carol Sheath, Engineering Programme Manager for Renewable Parts said: "Researching how we create an effective circular economy from assets being withdrawn from service is an important next step for our maturing industry, with wind energy reaching new milestones in its lifecycle, and asset owners evaluating new repowering solutions."
Dr Olga Kozlova, Director of Innovation and Industrial Engagement at the University of Strathclyde, said: "The Knowledge Transfer Partnerships are an effective way of sharing skills and are at the centre of our industrial engagement activity.
"These latest awards are great examples of projects which exploit our expertise and capabilities to meet the business and technical needs of industry." 
The Knowledge Transfer Partnership programme aims to link forward thinking businesses with the UK's world class knowledge bases to deliver innovative projects.
KTPs are funded by UK Research and Innovation through Innovate UK with the support of co-funders, including the Scottish Funding Council, and are part of the government's Industrial Strategy.