A team of University of Glasgow students have taken first place in a major international competition to design, build and drive single-seater racing cars.

The UGRacing team took first place at the finals of the Formula Student competition at the Silverstone race track this weekend, beating dozens of other teams from around the world for the top spot. They are only the third UK team to win first place in the competition's 25-year history.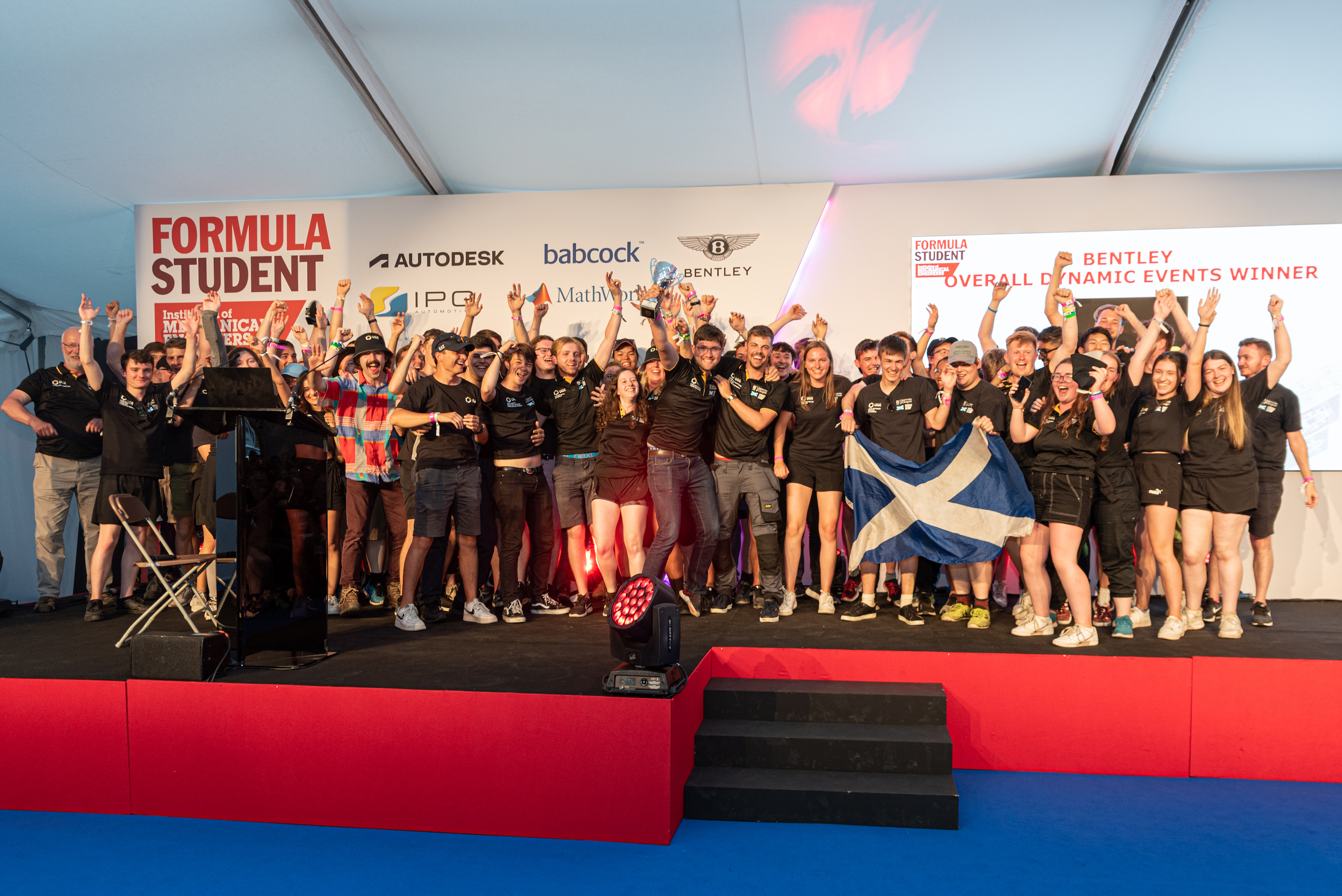 The team, which is made up of nearly 140 students drawn from across the University's four colleges, are the first from Scotland to win the competition, run by the Institution of Mechanical Engineers.

Dr John Shackleton, senior lecturer in engineering design at the University's James Watt School of Engineering, is the Faculty Advisor to the team.

Formula Student is an engineering competition open to those studying at universities across the UK and overseas. Established in 1998, it challenges teams to build and race single-seater high-performance cars against each other, with finals held at Silverstone each summer.

The finals combine formal presentations of students' work throughout the year with a range of on-track events that demonstrate the capabilities of their car.

In addition to winning the Formula Student competition overall, the team's performance was also recognised with a podium place in the Sprint event. Successes in other Dynamic Events led to them winning the Bentley Overall Dynamics Event trophy.

They also performed better than ever before in the Cost and Manufacturing section of the competition, and were finalists in the Design event for the second year in a row – the only team in this year's competition to do so.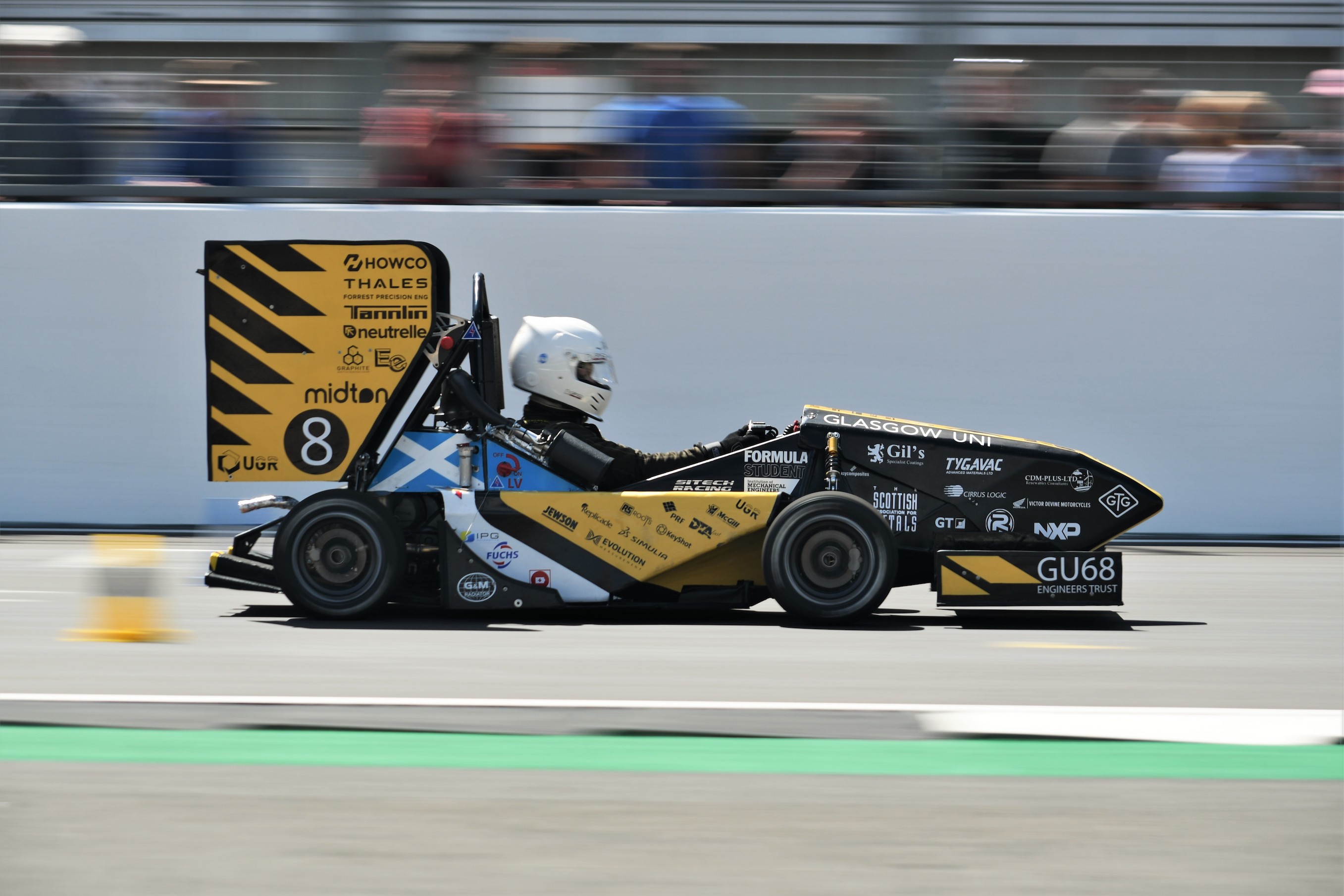 Fraser Cowie, UGRacing's team principal, said: "We're thrilled to have won this year's Formula Student competition, becoming the first team from Scotland and only the third from the UK to take the top prize. It's a testament to the thousands of hours of hard work that the team has put in over the last 12 months.

"We're very grateful for the support we've received from the University and our sponsors in the process, which was invaluable in helping us achieve our goals.

"In addition to the work we've been putting in on the internal combustion engine racing car which won the competition, we've also been developing a battery-powered electric car which we plan to race in next year's competition.

"We have a lot of work ahead of us our win has inspired us to do even better next year. We're looking forward to getting started on our designs for 2023."

Professor Dame Muffy Calder, head of the University of Glasgow's College of Science & Engineering, said: "On behalf of the entire University, I'd like to congratulate the UGRacing team for their success in this year's Formula Student competition.

"This is clearly a very talented team, with expertise drawn from disciplines across our Colleges. Together, they have achieved something remarkable in very challenging circumstances. I wish them the best of luck for next year."

Andrew Deakin, Formula Student Committee Chair, said: "Unusually for Silverstone the weather has been kind to us and while the only record we've seen broken is the temperature at a Formula Student event, it's been great to see so many teams come back after COVID-19. We hope everyone has enjoyed the chance to compete, learn, get feedback on their cars and enjoy the competition. Congratulations to all winners, especially Glasgow!"